Ka'm-t'em Scholarship
The Ka'm-t'em scholarship is made possible by royalties from Ka'm-t'em: A Journey Toward Healing books sales as well as from contributions. Contributors can donate to the fund directly at www.hafoundation.org/Ka'm-t'em.
This scholarship is for California Indigenous students with a path to contribute, protect, and advocate for Indigenous knowledge such as language, sacred sites, burial grounds and/or inherent rights.
Applicants must be:
1. ) Indigenous to California,
2. ) an undergraduate or graduate student, and
3. ) an advocate, protector, and/or contributor to Indigenous knowledge
This scholarship is for the 2024-2025 academic year. The deadline to apply is March 1, 2024. Applicants can apply at www.hafoundation.org/Grants-Scholarships/Scholarships-Apply-Now.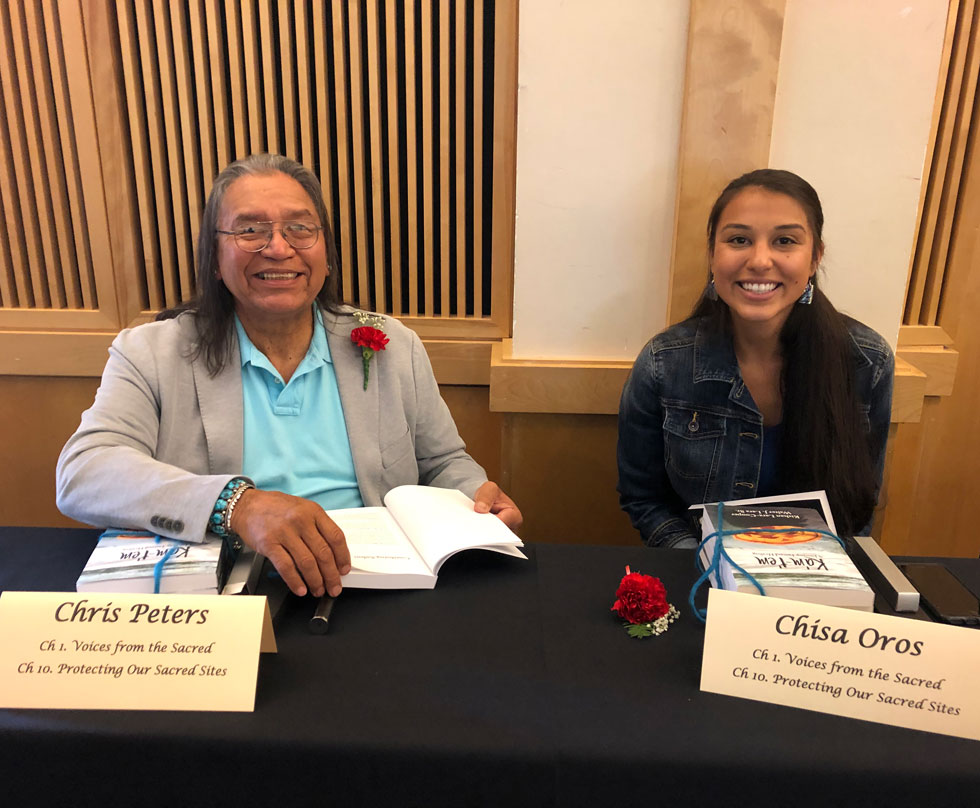 2023-2024 Ka'm-t'em Scholars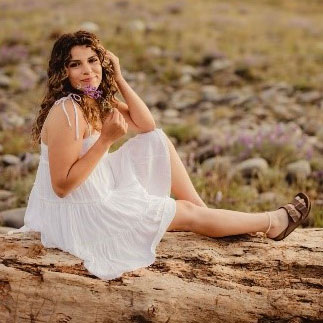 Tatianna Ray
Hupa / Yurok
Southern Oregon University
Tatianna is graduating from Hoopa Valley High School with a 3.8 g.p.a. She plans to major in Nursing at Southern Oregon University. Tatianna is actively involved in her culture and is an exceptional athlete. She was recently named the Most Valuable Player for softball in the Little 4. Tatiana is dedicated to protecting Indigenous knowledge. She says, "I've helped protect indigenous knowledge my entire life by learning about my culture, taking Yurok and Hupa language classes, and participating in ceremonies. Living on an Indian reservation has given me many opportunities to do so. Having this knowledge allows me to pass it on to future generations, and keep our culture alive. Since I was a young girl, I've been taught about our role as a native woman. I've watched and participated in many ceremonies, and I hope to share this knowledge with my daughters, nieces, or cousins. I've also been able to learn our native languages throughout my years of school, and I will keep learning it, to keep our language strong and known. I've had the opportunity to learn from our most fluent elders, which I value tremendously. I've participated in my ceremonies, this past summer I actually had a very important role in our Brush dance ceremony. I was the medicine girl, and I went through a long process of fasting, isolation and preparation. I had the opportunity to be a big role model for young girls in my community, and I hope to keep passing on my knowledge as I grow as an Indigenous woman."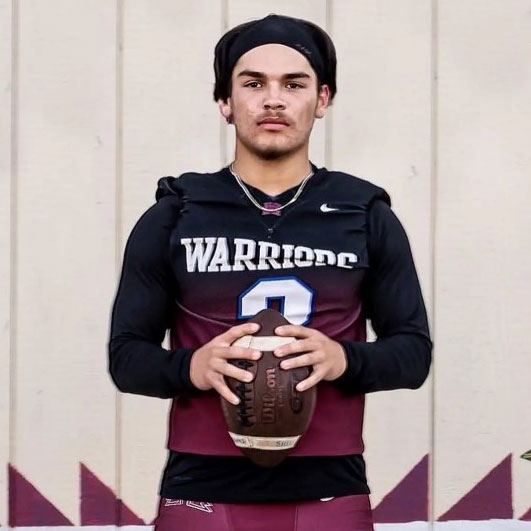 Lane Campbell
Hupa
University of Puget Sound
Lane Campbell is graduating from Hoopa Valley High School. Lane would like to become a Wildlife Conservation Officer and plans to major in Environmental Studies and Wildlife Management at the University of Puget Sound. Lane attributes his self-motivation, determination, and work ethic to sports, his upbringing in Hoopa Valley, and his parents. Lane shares this story, "Growing up, few people had a greater influence on shaping my values and experiences than my mom and dad. One particular lesson from my mom, about the importance of higher education stands out. I remember sitting at a College of the Redwoods graduation, where she was the student scholar and gave a speech about the value of protecting the earth. She completed her degree while working and taking care of my brothers and I. It all looked very difficult, and seeing her graduate at the top of her class with all she had going on, has stuck in my mind. It's helped to give me some determination to go to college right out of high school, so I can focus on just that, without having to worry about too many other things." Lane is committed to continuing to learn the Hupa language, to tell traditional oral histories, and to practice ethical hunting and gathering. He says, "We never take too much of a single resource, and when we do have excess, we pass it out to elders and family members. We always leave the place better than when we arrived."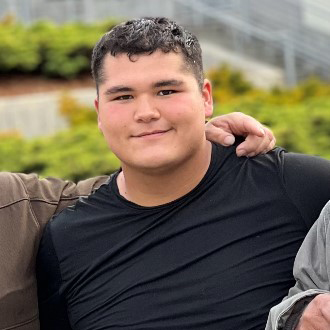 Everett Colegrove III
Hupa / Yurok / Karuk
College of the Redwoods
Everett currently attends College of the Redwoods. He will transfer to Cal Poly Humboldt to major in Natural Resources next year. While in school, Everett also works for the California State Parks as a Senior Maintenance Aid. He is a collegiate football athlete, author, cattle rancher, and an active community member who loves his people and homeland. He shares, "After college, I intend to come back home to make a contribution to the healing of our people, the environment, and our community. In the meantime, I have been practicing ways to protect the natural environment through our own Indigenous ways of knowing. For example, I have been helping to repair and re-construct our traditional houses, which date back ten thousand years or more and will be helping to construct a redwood dugout canoe. As Indigenous people, we are aware of the delicate ecosystems at play. We use traditional tools that are not toxic to the environment, such as, elk horn awls, carving and splitting tools; we do not fall trees for these repairs or construction, we use fallen trees; and we are responsible and aware of watersheds, creeks, and streams in the removal of fallen timber. It is my responsibility to learn these types of things to ensure the continued health of our homeland and our people. As human beings, we must understand the vibrations of the world and our connections. We must be prepared to humbly answer the call as the environment speaks to us."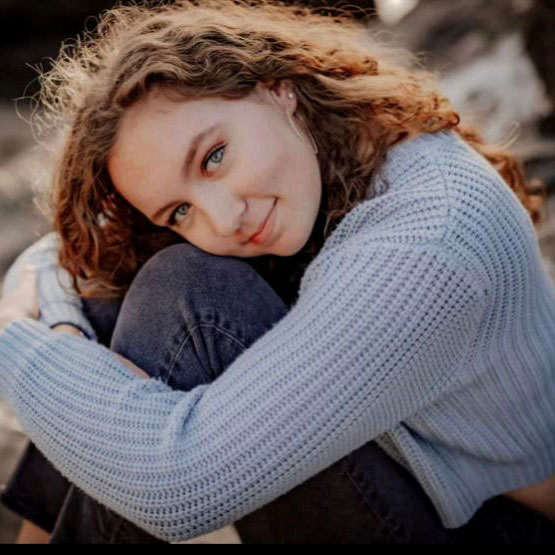 Sofie Sundberg
Trinidad Rancheria
University of Hawaii- Manoa
Sofie Sundberg is graduating from McKinleyville High School with a 4.55 g.p.a. Sofie plans to major in Environmental Studies at the University of Hawaii at Manoa. While in high school, Sofie was an intern for the Blue Lake Rancheria and played an active role in the student-led "Success in Both Worlds" conference at McKinleyville High School. She is an advocate for language revitalization and is a Yurok language student. Sofie says, "Aawokw Kathleen Vigil was my first Yurok teacher and she taught me many important lessons that have stuck with me throughout high school. She taught me the real importance of respecting others and always being on time. I always took her advice and she was an important person to me during my freshman year. I continued to take Yurok throughout high school to do my part in making sure that this beautiful language continues to stay alive and hopefully thrive in the future. My goal is to continue learning Yurok after high school so I can be fluent in the language and be able to teach others who want to learn. It has been one of the best parts of my high school experience to be able to keep in touch with my culture at school. By participating in these activities, I have been able to be involved in my Native community and help promote Native culture in my community."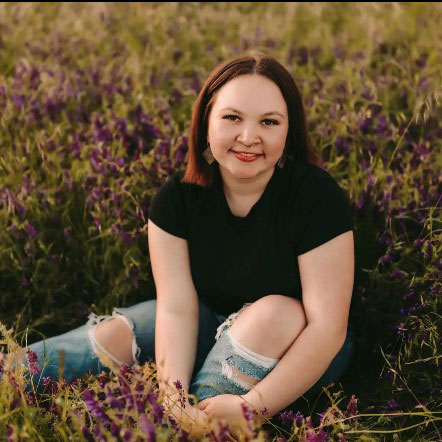 Libby Hailey
Hupa
Stanford University
Libby will be graduating from Hoopa Valley High School with a 4.14 g.p.a. She plans to pursue a career in education or psychology at Stanford University. In high school, Libby participated in a natural resources class that emphasized traditional ecological knowledge and a Native American Studies class. In the 7th grade, she made her own xoji kya' (ceremonial dress) and is committed to keeping her traditions alive. She says, "I have been active in continuing Indigenous knowledge. I have done this by being a participant in various cultural activities. I have participated in ceremonies since I was in seventh grade, when I made my Xoji Kya' (ceremonial dress.) This was very impactful on me as it has inspired me to keep my traditions alive. Since then, I have encouraged my younger sister to make her own Xoji Kya' and become a ceremonial dancer herself…I plan to continue my traditions and the teaching of cultural knowledge in my college career and passing it down to my siblings and younger cousins."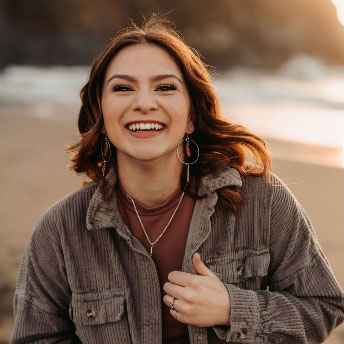 Nae-rew Chee-shep Martin
Yurok / Karuk
College of the Redwoods
Nae-rew will be graduating from Hoopa Valley High School with a 4.14 g.p.a. She will play softball at College of the Redwoods and then transfer to Cal Poly Humboldt majoring in Cell Molecular Biology (Pre-med). She plans to become a healthcare professional specializing in Native women and children's health. Nae-rew was raised in a traditional Yurok-Karuk family and has been actively involved in the preservation of cultural knowledge, ceremonies, and way of life since birth. She says, "My name, Nae-rew Chee-shep, means "Pretty Flower" in the Yurok language. I was raised in a traditional Yurok-Karuk family. I have attended traditional Yurok and Karuk ceremonial dances since I was an infant in a baby basket. By the age of 12 years, I was participating as a dancer and later as a singer. I have worked with my mother and other family members to learn some of the girls' songs and prepare for the dances by making traditional regalia, such as necklaces and bark skirts. When I was 13 years old, I helped my mother gather the materials and make regalia for my own Flower Dance (a five-day coming-of-age ceremony for young women), called "Ihuuk" in the Karuk language. My mother made the beautiful ceremonial dance dress I first wore in my Ihuuk ceremony up on the Salmon River. My whole family contributed to preparing traditional foods, including acorn soup and salmon roasted on wooden stakes, as well as a large variety of "camp foods" for the community members who came to support the dance. Since then, I have been honored to dance in a number of Brush Dances and Jump Dances, as well as to help younger girls at their Flower Dances. It has been my honor to learn from the elders so that I will be prepared to continue our cultural traditions as an adult, a parent, and some day as an elder."
2022-2023 Ka'm-t'em Scholars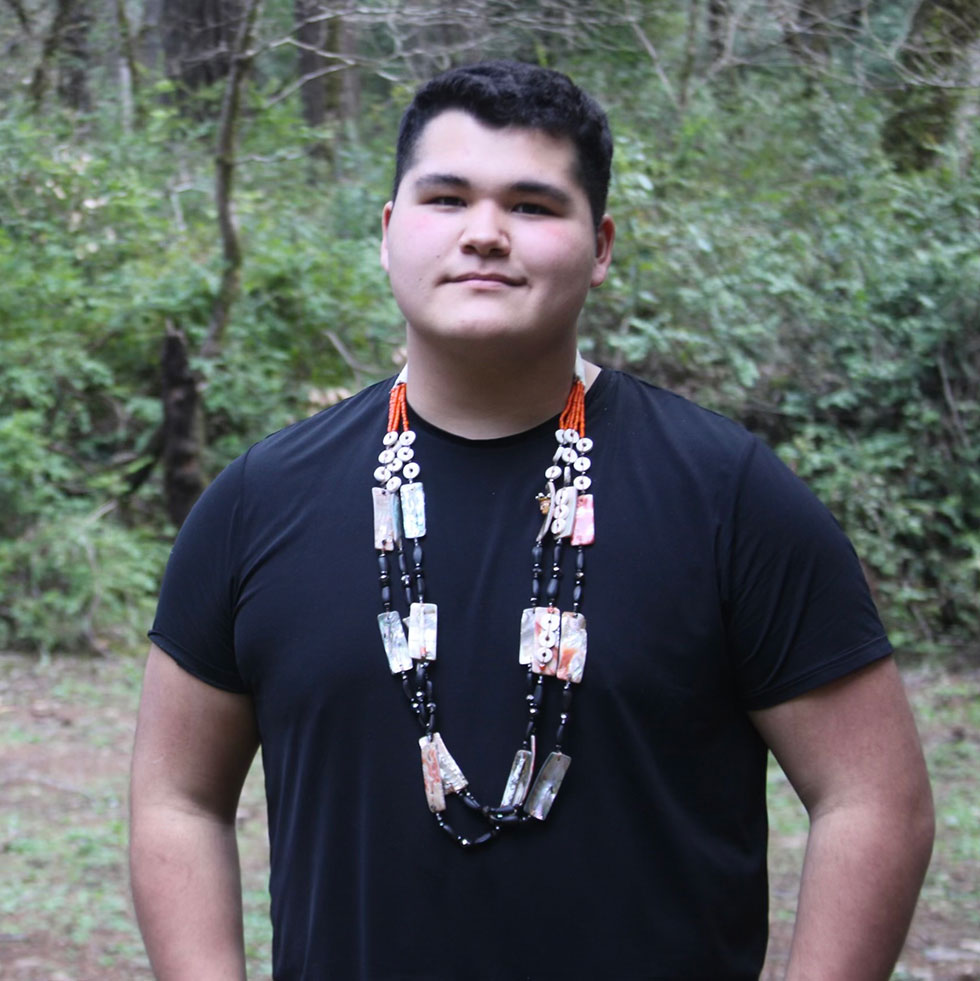 Everett Colegrove III
Hupa / Yurok / Karuk
College of the Redwoods
Everett is a member of the Hoopa Valley Tribe with Yurok and Karuk lineage. He is from the Hupa villages of Medildin, Takimilding, Diyshdang ading, and Tsewenaldin; the Yurok villages of Chapekw and Moreck, and the Karuk village of Chimikaniinaach. Everett graduated as an honor roll student from Hoopa Valley High School, published a book chapter in the Routledge Handbook of International Indigenous Resilience; and was selected as one the top 60 athletes and leaders to participate in the Indigenous Bowl in Minnesota at the Vikings Stadium. He is currently attending College of the Redwoods where he plays football and majors in Natural Resources. He plans to transfer to Cal Poly Humboldt in two years. Everett shares, "From my perspective, I feel like everyone makes a valuable contribution and education happens in many forms. However, a formal education is important to me because it will help me to build a deeper understanding of the history, laws, science, and cultural practices that influence the health of the river, forest, wildlife and ultimately our community…I know that as an Indigenous male that it is statistically unlikely for me to graduate from high school, to qualify for college, or to graduate from college. However, our culture has taught me discipline and how to face adversity… After college I intend to come back home to make a contribution to the healing of our people, the environment, and our community."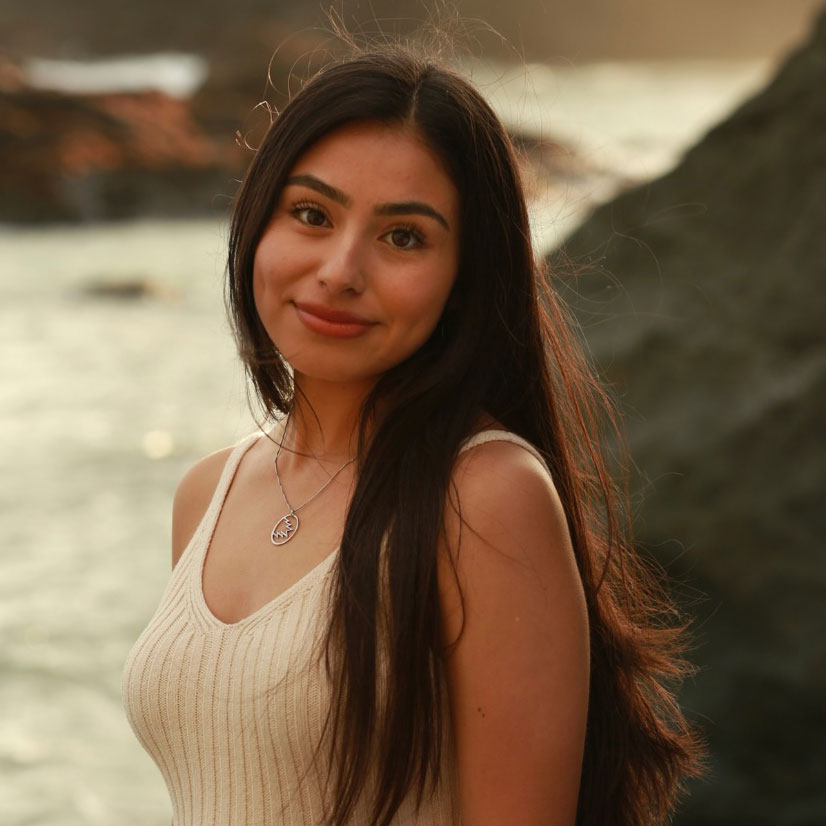 Tahsa Tripp
Yurok / Karuk
Cal Poly Humboldt
Tahsa is a Yurok Tribal member and a Karuk descendant. She graduated with honors from Hoopa Valley High School and is currently majoring in Environmental Studies at California State Polytechnic University, Humboldt. Tahsa says, "I am thankful for the traditional knowledge, intuitiveness, and leadership skills that I have been taught by my family, elders, community, and our ceremonial teachings. I plan to gain knowledge and find opportunities that will benefit not only me but also my community. In the future, I plan on working with my tribes to advocate for creating a more sustainable environment for future generations."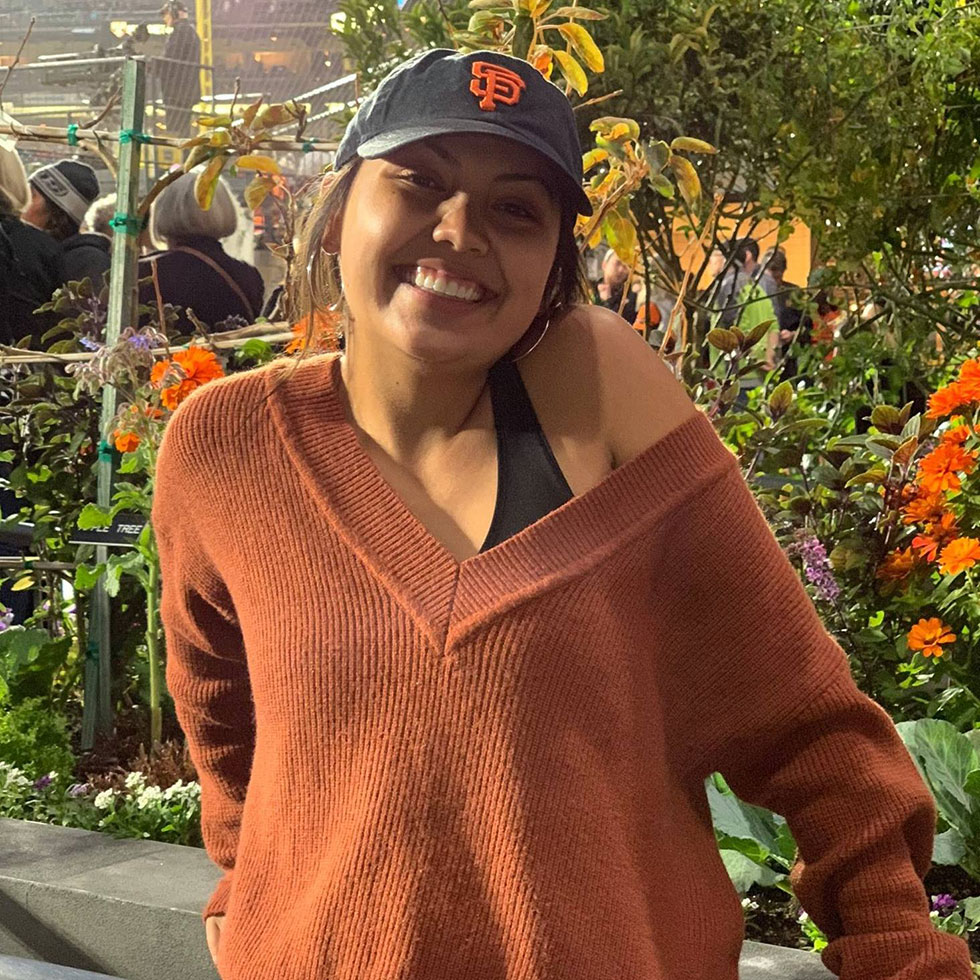 Ellen Sanders-Raigosa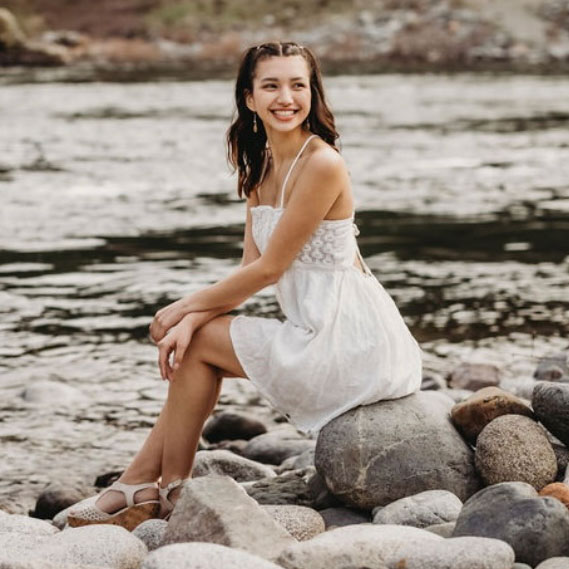 Tannah O'Rourke
Yurok / Hupa / Karuk
Central Oregon Community College
Tannah O'Rourke is a Yurok tribal member majoring in Pre-Med (Medical imaging technology). She hopes to go into midwifery in the future. Currently, Tannah attends Central Oregon Community College and is working towards an AAOT degree to continue her education at Oregon Institute of Technology. Tannah says that she "intends to come back home and work in my tribal community, incorporating our traditional medicines and healing ways into my work."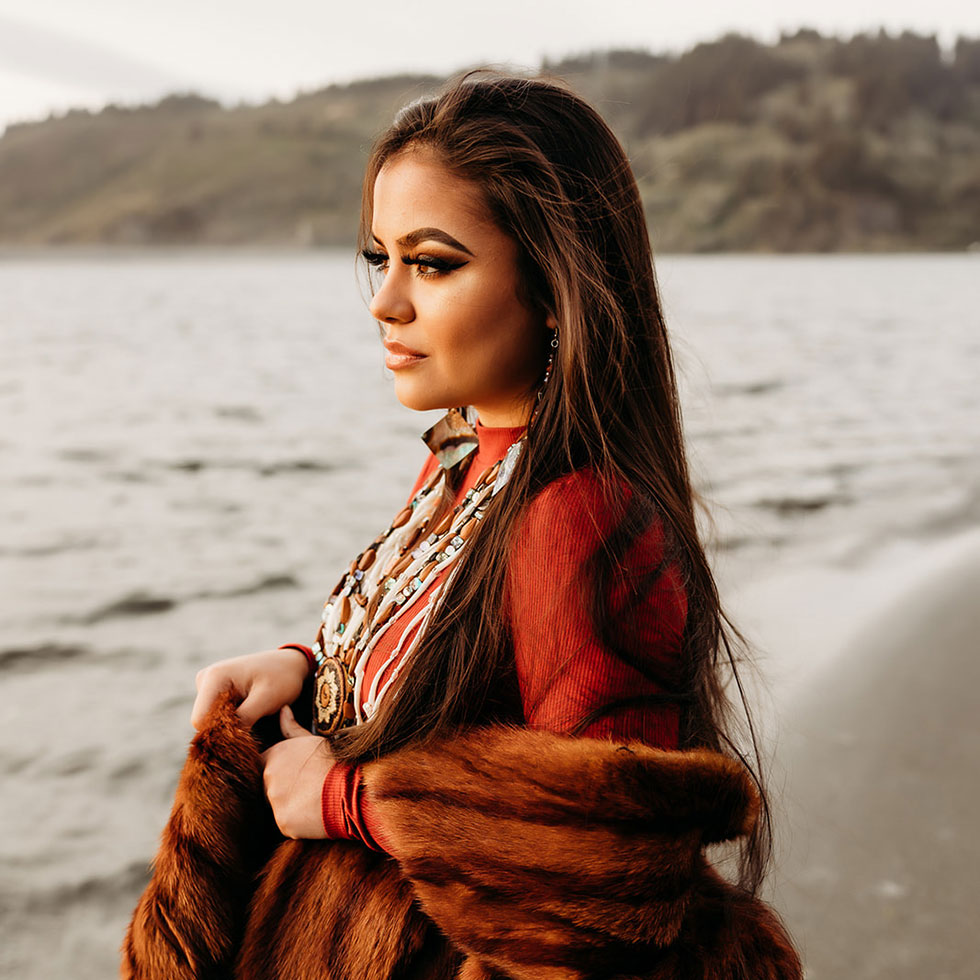 Deja Coleman
Yurok
Irvine Valley College
Deja is a member of the Yurok Tribe. She attends Irvine Valley College and is majoring in Theatre Arts. Deja says, "Through the process of obtaining my educational goals as a performing artist, I will continuously advocate for my people through any platform or opportunity I am given. I believe that performing arts is a way that will help me connect with younger generations and with a goal to inspire all the upcoming generations to follow their dreams by pursuing what I love…and also represent our people on a larger scale. The beauty and importance of our world can be shared through the arts. There are many ways to gain education and help Native communities; however, I plan to use my love of performing to bring positivity to the community that raised me."
2021-2022 Ka'm-t'em Scholars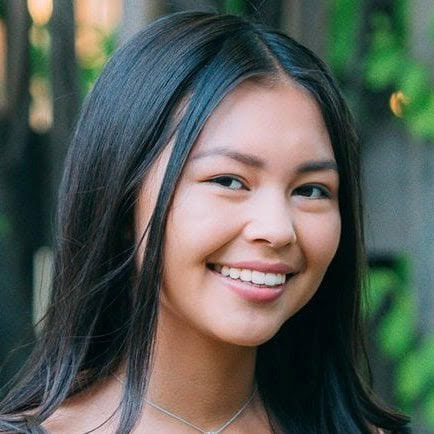 Jayden Lim
Pomo
Stanford University
Jayden is pursuing her Bachelor of Arts degree in history at Stanford University. She is a United National Indian Tribal Youth (UNITY) top 25 Under 25 Native Youth Leader, a National Arts and Humanities Youth Program award recipient, and Tribal Youth Ambassador for the California Indian Museum and Cultural Center. "I hope that by achieving my BA in history, I will be able to rewrite the curriculum that continues to undermine my ancestors today and inspire younger generations to overcome the struggle…"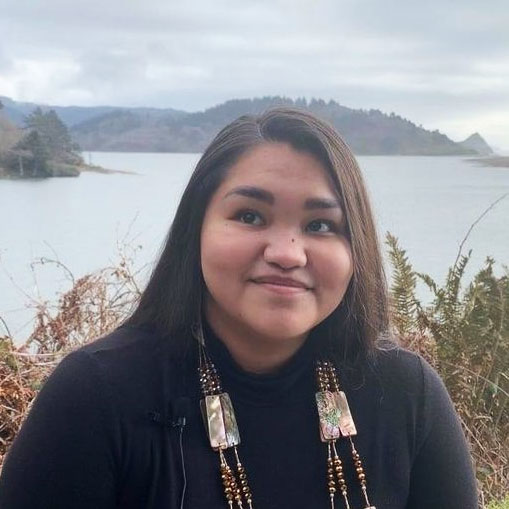 Princess Jintcon Colegrove
Hupa / Yurok / Karuk
Humboldt State University
Princess Jintcon is pursuing a Bachelor of Science in Environmental Studies from Humboldt State University. She is a Senior Park Aid/ Interpreter for the California State Parks. "Going to college was always an expectation of my family, however it is about more than finding a high-paying job or a career. It means that when it comes to fighting for my culture, my people and our way of life, I will have the tools I need. I have learned to not think of myself when taking action but to think of the future. I have always been told that the health of the people is a reflection of the health of our environment. We have an understanding that we have a responsibility and accountability to how we treat people, our community, and our natural environment. This knowledge has been with our people for thousands of years, however new elements such as pollution, viruses, litter, diversion of water and global warming have since been introduced. To bring back balance, there is a need for both Indigenous knowledge and environmental studies. I plan to return home to provide a link between the Indigenous knowledge that our elders carry and different aspects of the environment from an academic perspective."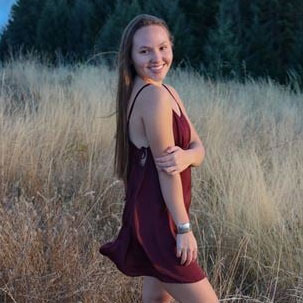 Jada McCovey
Hupa / Yurok
Hoopa Valley High School
Jada will be graduating from Hoopa Valley High School and has plans to attend the University of Oregon. She is a recipient of the Yurok Language Award, Art and Ceramics Top Artist Award, Mathematical Excellence Award, and Most Valuable Player in Basketball and Volleyball. Jada is actively involved in ceremony and community events and she is committed to the preservation of language and culture.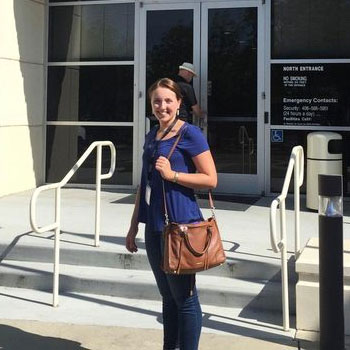 Angela Ker-per McQuillen
Yurok / Tolowa
Palmer College of Chiropractic-West
Angela is a graduate in Kinesiology with an emphasis in Exercise Science/Health Promotion from Humboldt State University. She is pursuing a Doctor of Chiropractic degree from Palmer College of Chiropractic-West. "My goal is to be able to practice in partnership with Indian Health Services (IHS) clinics that provide healthcare to Native American/Alaska Native populations…I want to be the doctor that the IHS clinic refers to and provide care for my own people. I believe that integrating into the already established health care system that provides care for Native families will help decrease the amount of opioids prescribed and bring back balance to a community hit hard by the opioid pandemic. Hands-on holistic healing has always been part of the Indigenous culture and I feel the inherent need to carry forth these practices with chiropractic care."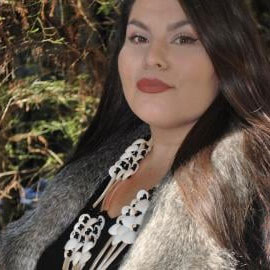 Sasheen Raymond
Hupa / Yurok
Pepperdine University
Sasheen completed her Bachelor of Arts degree from Humboldt State University and Master of Arts degree in Organizational Leadership from Claremont University. She is pursuing a Ph.D in Global Leadership and Change from Pepperdine University. "My Master's thesis focused on Indigenous Leadership models in higher education as a means to create an equitable campus and support Native students. In my Ph.D program, I will continue to research Indigenous epistemologies and pedagogies that can transform higher education leadership practices. Indigenous principles create a culture of being relational, accountable, inclusive, and provide holistic support to students, faculty, staff, and community members. Higher education often utilizes Indigenous knowledge when it supports institutional goals but often uses information out of context or becomes exploitive. The culture of higher education juxtaposes that of Native peoples which often results in harm or poor Tribal relationships. I plan to use my education to protect Native culture from exploitation while upholding the vast and rich epistemologies of Native peoples to create an inclusive and supportive climate."
2020-2021 Ka'm-t'em Scholars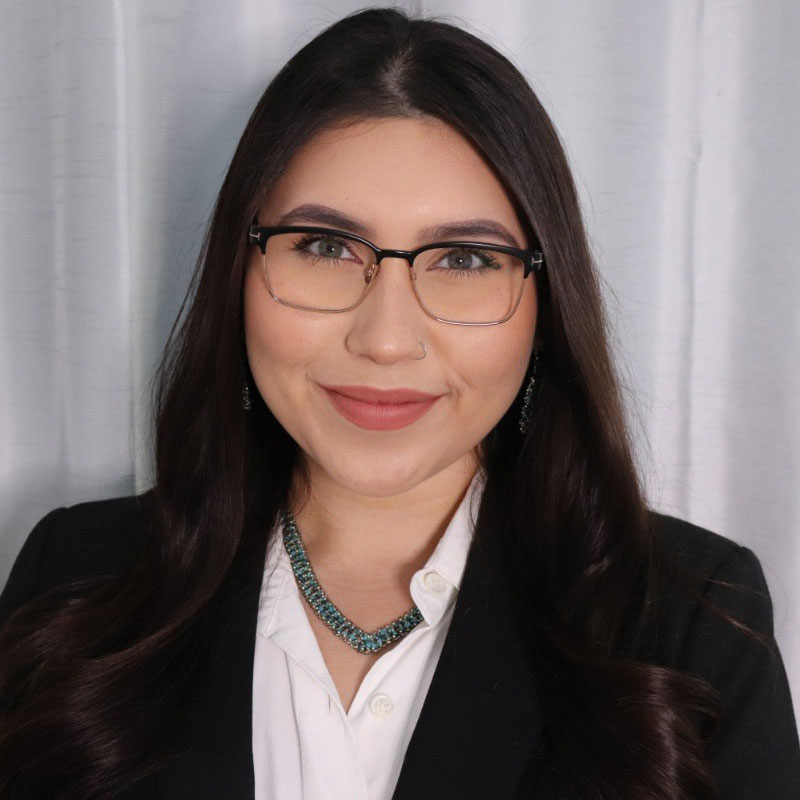 Vivian Vega
Cloverdale Rancheria Band of Pomo Indians
UC Davis Medical School
"My inspiration to become a physician is highly driven by my desire and passion to serve my community and increase representation of my Native community in the health field. Through this journey, I hope to inspire and assist Native youth to follow their dreams by setting a positive example for them… This path that I walk is not only for myself, but it is to honor my ancestors as well. For generations my ancestors fought to survive the three waves of genocide that hit California. Their fight to live and resist colonization made it possible for me to be here today. Despite the survival of my community we still face disproportionate rates of health problems that are tied to colonization…Despite these issues stacked against my community, issues that are rooted in colonial violence, my community continues to thrive and work towards healing from the trauma of colonization… I know that in order to make a positive impact in my community I have to complete my path and become a doctor that will help my community heal."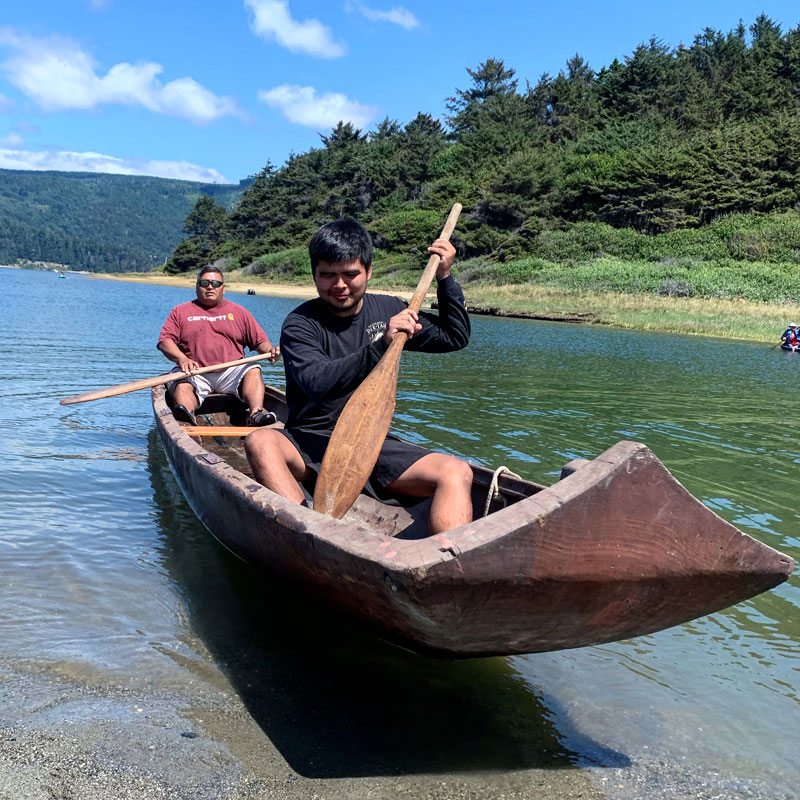 Donald Moore
Yurok / Hupa
Environmental Studies, Fort Lewis College
"Getting this education is the first step to contributing to K'am-T'em. That word itself now means a whole lot to me to say the least. It's not just the treasure of knowledge, it's a journey towards healing as it says on the cover of the book. It's revitalization, it's hope and its resiliency. K'am- T'em is ensuring that my kids have the knowledge and resources I have. K'am-T'em is teaching my grandchildren exactly what I learned from my grandparents, even if they are no longer living. K'am-T'em is growth for our community, it's the condor returning home, and most importantly it's the interwovenness of the sticks that make up the basket that provides for us. I will continue to fight for our people and help them grow so future generations don't have to struggle like my ancestors did with colonialism and ceremonies/language. Until I pass on, I will continue to fight for my people so that we can continue to raise that white deer and allow our rock packers to cross in front of us."
Ish-Kaysh Tripp
Yurok / Karuk
Environmental Resource Engineering, Humboldt State University
"Our traditional ceremonies are practiced in the context of our respect for, and responsibility to protect, the natural environment: the land, forests, tributaries/rivers, Indigenous food supplies, medicinal plants, birds, fish, and wildlife. I was raised knowing that taking care of the natural environment is critical to long-term sustainability on earth, and that the need to change the carbon footprint of humanity is urgent. The path that dominant human society has taken industrially has put the world in a critical position health-wise, and in turn has proved to be a great danger for all life on earth. The extinction of thousands of animal species in recent decades, and the well-documented correlation between climate change and human dependence on unsustainable energy sources like fossil fuels, offer compelling evidence that technological innovations alone will not be enough to reverse human caused pollution. To save what is left of the world, the attitude of global humanity needs to change immediately. I am eager to complete my education at HSU and to become a contributing member of environmental restoration sciences. I aspire to restore fresh watersheds and improve salmonid spawning habitat. This goal is vital to my identity as an Indigenous person, and I want to ensure future generations the opportunity to interact with the natural environment like I have in my lifetime."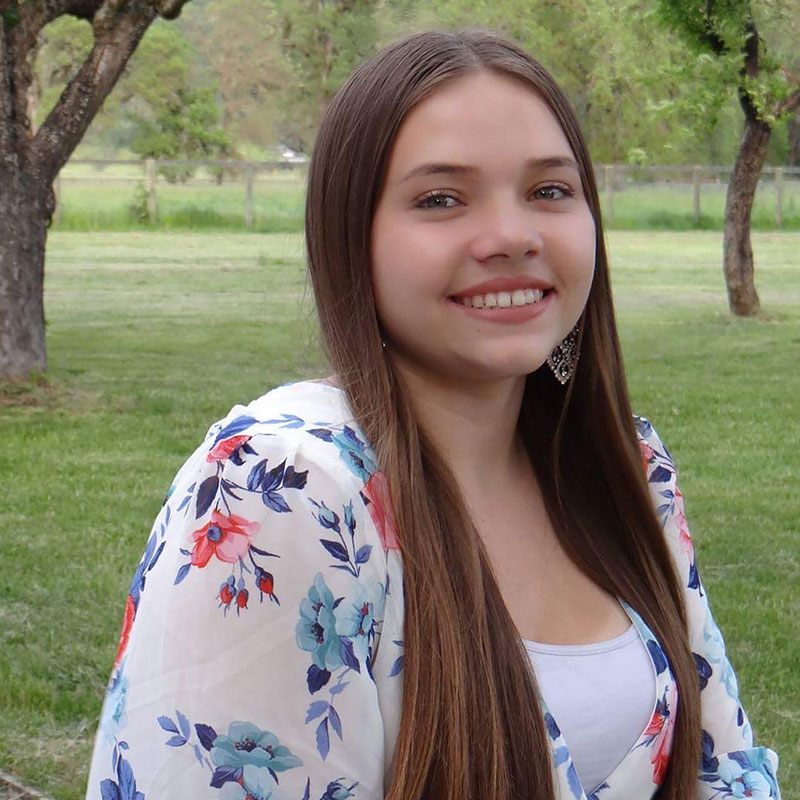 Shayleena Britton
Yuki and Wailaki
Academy of Arts University
"Historically our people were physically and sexually abused and often killed by colonizers for speaking their native languages. This pain has spiraled into years of intergenerational trauma and loss… This has resulted in a cultural knowledge gap, which continues to grow as many elders begin to pass away. This was seen with my own language Wailaki, which after many years of "sleeping" was considered dead due to the lack of existing audio recordings. While in high school an initiative in my valley began to bring back the Wailaki language. Two Native American staff members and a handful of students, including myself, dedicated our time to learn and revive the Wailaki language. I am extremely grateful to be working in relation to this major issue. I speak the language throughout the community, my home, and my college. I am now able to teach my grandparents the language they lost, as well as teach my younger siblings their native tongue so they will also be able to pass it on when they get older. I plan on expanding my work with the Wailaki language by creating animated movies and clips that will teach and educate on the language. I also plan on working and supporting other tribes by creating media platforms and animations which will reflect tribal beliefs and creation stories. Learning language is a crucial step towards regaining cultural knowledge and honoring our ancestors."