Additional Resources
Northern Howl Series
As a result of the COVID-19 virus, many families are sheltering-in-place and several schools have transitioned to virtual learning classrooms. While this has been a difficult transition, it has also been an opportunity to create activities within the home that reflect a student's personal interest. One such activity is the creation of the "Northern Howl" book series by Teh-sa'a:n-xwe Cooper (2nd grade). This project began as an exchange of oral stories in the home and evolved into home school lessons of reading, writing, presenting, history, science, and even math. Through the creation of these stories, the student had the opportunity to connect his personal values, beliefs, and interests with course content and state standards. This project is an example of testimonial justice and paradigm shifts of education.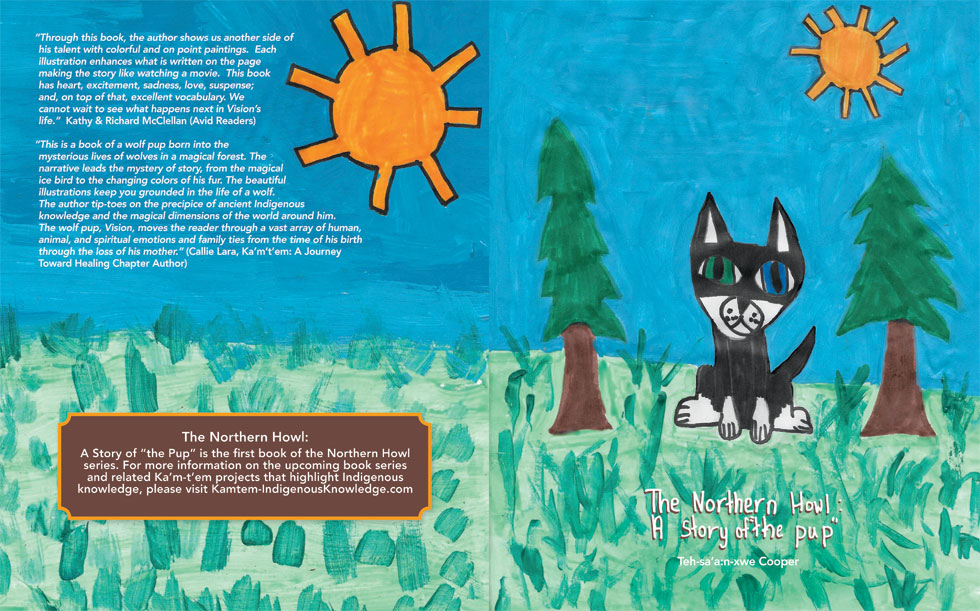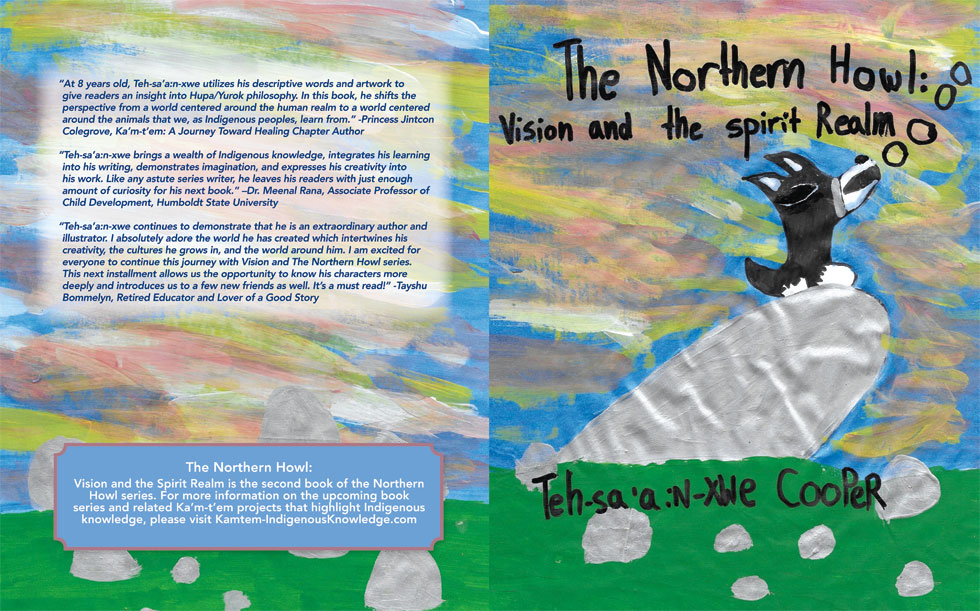 To request further information or to purchase the Northern Howl Series, send a message through the contact page.
Through this book [A story of the pup], the author shows us another side of his talent with colorful and on point paintings. Each illustration enhances what is written on the page making the story like watching a movie. This book heart, excitement, sadness, love, suspense, and, on top of that, excellent vocabulary. We cannot wait to see what happens next in Vision's life.
Teh-sa'a:n-xwe continues to demonstrate that he is an extraordinary author and illustrator. I absolutely adore the world he has created which intertwines his creativity, the culture he grows in, and the world around him. I am excited for everyone to continue this journey with Vision and the Northern Howl series. This next installment allows us the opportunity to know his characters more deeply and introduces us to a few new friends as well. It's a must read!
In his third book, The Northern Howl: Vision's Journey Home, native author Teh-sa'a:n-xwe Sa:mmy Cooper, takes us on a magical journey seen through the insightful eyes of Vision as he travels across dimensions of time. Along the way, he learns how to live well within the world. Safe within the ancestral teachings of family and community, everyday time yields to the spirit realm where Vision finds confirmation of his identity secure within a native world where Vision finds confirmation of his identity secure within a native world view where nature's elements, each named and gifted with exceptional qualities, guide him home.
I like the pup it's really cute and I like the canoe. Pup always saves the day.
Northern Howl books are good books and my baby sister and baby brother really like them too!